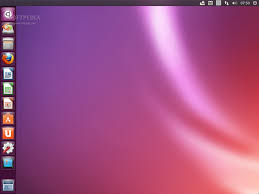 Did you just follow the installation tutorial for ubuntu 13.10? Well now that we have it installed it may be time to get used to your new operating system!
Getting Started
Edit
When you start up your computer after installing Ubuntu you may notice an extra step. You can select which operating system you would like to load. For me I can either load Ubuntu or Windows XP Media Center edition. Use the arrow keys and Enter to navigate through this menu. Select Ubuntu to load your new operating System.
Now for the start
Edit
When you select Ubuntu you may notice the instalation screen if you haven't already install Ubuntu or you can wait.
After installation you will be brought to the desktop. Trust me it's alot different from windows. On your side bar you may notice tons of different appications I should explain
Search-Search all files and even on the internet
Files-Browse all files in your folders
Mozilla Firefox-Browse the web
Libre Office writer-Write presentations. can open word files.
Libre Office calc-Similar to Microsoft office Excel
Libre office Impress-Similar to Microsoft offce Powerpoint
Ubuntu software center-Download applications submitted by programmers
Ubuntu one Music-Similar to iTunes store
Settings-Modify System settings
Enjoy your new Ubuntu Desktop!
Community content is available under
CC-BY-SA
unless otherwise noted.